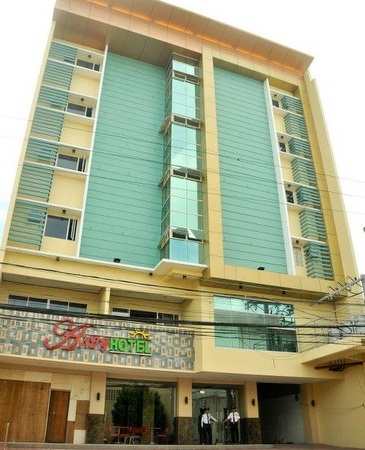 I'm so delighted to have the chance to experience being inside Andy Hotel in Mandaue City.  That was in a weekend when we had our monthly BOT meeting with my blogging organization (Cebu Bloggers Society, Inc.). The staffs are really welcoming and we (bloggers) all had a "good feel". I can say, a first class experience at a very affordable rate. Well, Andy Hotel sponsored our meeting venue and that's what I'm thankful for.
I've never heard of Andy hotel before not until I had responded to their invitation. It's actually the NEWEST business class hotel in Mandaue City, Philippines. It opened early this year, 2012. Now, I'm sharing them to you. Maybe you can refer some friends to stay there if they happen to have a vacation in Cebu. Why not? Take note of their slogan: "Affordable Rates, First Class Experience"
Where is Andy Hotel located?
You can spot this newly-rise business hotel at 727 A.S. Fortuna Street, Mandaue City, Cebu. Sketch below:
Famous landmarks near Andy Hotel:
Just walking distance from J Centre Mall. It's near Jollibee (A.S. Fortuna branch), adacent to KFC and just beside 360 Pharmacy.
For inquiries and reservations:
Email: andyhotel@yahoo.com
Website: http://www.andyhotel.net
Just like any other hotel, they have their own food cafe too and they named it "MANG CAPE", where you can have coffee, sandwiches and Filipino Delicacies.  And I tell you, try their DOUGHNUTS and coffee too!
Opening hours: 6 AM
Closing hours: 11 PM
* Free iced tea/orange juice  for every breakfast  meal purchased (6 to 11 AM)
What are the Amenities and Facilities they have?
-WIFI
-Parking Space
-Function Rooms (100 pax)
-Hot and Cold shower
-AC rooms
-24-hr Security and CCTV Surveillance
-LCD tv with cable connections
-safety deposit boxes
-luggage storage space
-accepts MAJOR CREDIT cards too
Recommendations:
Fit for business and corporate executives who are in the budget! I can really say their rates are very AFFORDABLE!!! For those having their birthday parties or corporate celebrations, or press conferences, you can have it at ANDY Hotel.
They do have PROMO rates for the whole year, so please do CALL them to inquire!
Phones: (032) 520-9988 and (032) 420-2080
 P.S.: I'm making this post as a courtesy to Andy Hotel for sponsoring our meeting venue. 
Comments
comments